Advertiser. Scriptwriter. Author.
Do you know what these three careers have in common? According to Steven Pressfield, storytelling.
If you've read last week's post or are following me on Goodreads, you'll know that I've recently picked up Nobody Wants to Read Your Sh*t: Why that is and What You Can Do About It. I'm a big fan of Pressfield's no-nonsense writing style and intended to buy his book the moment I heard about it. That was until Marie Forleo gifted a free version to her mailing list subscribers (woot!).
This book didn't disappoint (not that expected it to). It's so informative and inspiring that it should be on every writer's TBR list. Lets talk about why that is.
What was it about?
Similar to On Writing by Stephen King, Nobody Wants to Read Your Sh*t walks us through Pressfield's career as a creative. Each career has taught him something about storytelling and he's sharing those techniques/life lessons with us in short, vignette-like, chapters. He also discusses how writers can use these techniques in all forms of writing (novel, script, self-help, non-fiction, etc.).
What are my thoughts?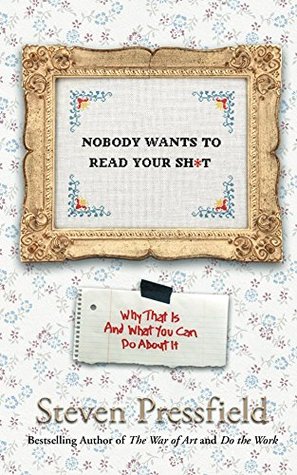 When I first read the title, I thought "Gee, thanks for the vote of confidence."
Then I read the subheading and thought, "Okay. Now this makes sense."
I like the title because it's a sneaky, yet brilliant, way to get your attention😈. Love it. Good job Pressfield!
Anyway, the first three chapters set the stage for the entire book. But, well, as shameful as this was, I…uh…I skipped them.
They weren't bad! I just really really really wanted to get to the meat of the book. And boy, was it juicy!
Nobody Wants to Read Your Sh*t reads like a narrative with Pressfield being the main character. So you're getting some sweet advice on writing but you're also learning about Pressfield's personal struggles with the craft. In my opinion, this little snippet into his life was uplifting because he never gave up.
Grit and determination can help anyone succeed.
Whenever he introduces a new storytelling technique, the narrative pauses so he can explain it. He explains some techniques/lessons better than others, but I think this is because the "less explained" ones are pretty self-explanatory. He also repeats the complicated techniques throughout the prose so you can't forget them (at least, I can't).
Overall, this book is packed with value. The underlining lesson is that us writers must take our readers into account. If we fail to do that, we'll have one heck of a time trying to get them to read our writing.
What was my favorite part(s)?
After the first eight chapters, the book is broken down into eight parts. The two parts that I like the most are "Book 3: Hollywood" and "Book 4: Fiction: The Second Time."
"Book 3: Hollywood" is where Pressfield learns about story formula. He delves into my favorite topic, the Hero's Journey, which is an ancient story structure that (believe or not) every story follows.
(Warning: This book isn't technically a novel, but it reads like one. So if you don't want me to spoil the effect for you, skip to the next heading.)
"Book 4: Fiction: The Second Time" is where Pressfield uses the life lessons and writing techniques he learned form his previous careers and applies them to writing his first novel.
This is an intense time in Pressfield's life because novel writing has impacted his life in a negative way in the past: his manuscripts were never"good enough," his marriage faltered, and he was jobless.
Despite all this, he still had a burning desire to be a creative and he fought for it even though resistance held him back. This struggle makes his triumph in book "Book 4" especially moving in my opinion.
What are some key take-aways?
Do you want to know what Pressfield means when he says "nobody wants you read your sh*t"? He means:
When you understand that nobody wants to read your shit, you develop empathy. You acquire the skill that is indispensable to all artists and entrepreneurs—the ability to switch back and forth in your imagination from your own point of view as writer/painter/seller to the point of view of your reader/gallery-goer/customer. You learn to ask yourself with ev­ery sentence and every phrase: Is this interesting? Is it fun or challenging or inventive? Am I giving the reader enough? Is she bored? Is she following where I want to lead her?
Pressfield on the struggles of writing a novel:
As artists, you and I are struggling each day to dominate our material, to shape it into a cohesive whole with a beginning, middle, and an end. But at the same time, the raw entity defies us. It's a living thing, with its own power and its own destiny. It 'wants' to be something. Our job is to discover what that something is—and to help it become that.
On structuring a story:
The ending dictates the beginning. I'm a huge fan of this back-to-front method. It works for anything—novels, plays, new business pitches, music albums, choreography. First figure out where you want to finish. Then work backward to set up everything you need to get you there.
What are my recommendations?
As I've said before, this book should be a must read for every author, writer, and aspiring author out there.
I think it could also be helpful for those who are struggling with their writing careers or are in need of some inspiration.
If you're someone who just likes to learn new things (like me), then this book might be good for you too.
Lastly, if you're going to read this book, please do so with pen and paper. Don't just read it, try to apply the techniques to your W.I.P.
Links
---
While we're talking about books, how about we be reading buddies on Goodreads?! I'm starting to post updates about the books that I'm reading (snippets of the reading material and my reactions to them) because, gosh, books are awesome.
If this sounds like something you'd be interested in (or you just need a friend), send me a request and we'll be book nerds together! 🙂